Thanksgiving Salad with Roasted Butternut Squash and Mission Fig Vinaigrette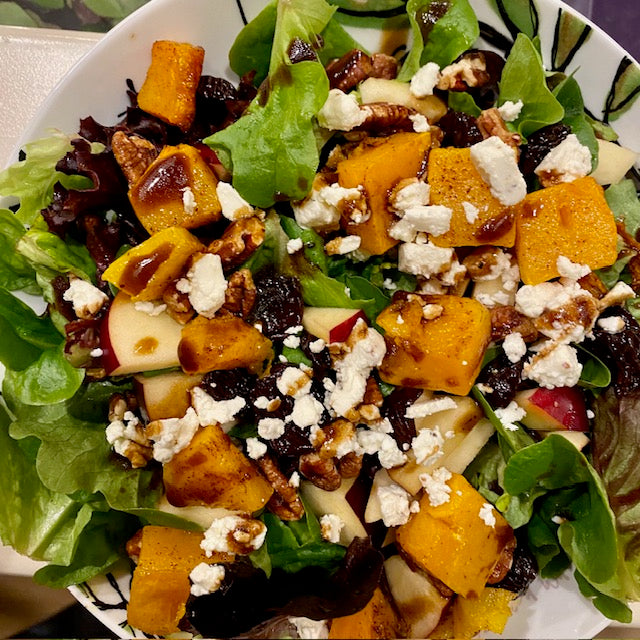 This salad is not only delicious but beautiful as well. A wonderful side to your Thanksgiving feast!
Ingredients
4 cups of baby spinach and 4 cups of spring mix
2 cups cubed butternut squash
1 tsp cinnamon
1 chopped pear
1 crisp apple chopped (I used Arkansas Black)
½ cup (or more!) crumbly Goat cheese or crumbly cheese of choice.
½ cup dried cherries
½ cup lightly chopped Maple Candied Pecans (recipe link here)
2 tbsp EVOO
For the vinaigrette:
¼ cup Mission Fig Balsamic Vinegar
½ cup Herbs de Provence Olive Oil
Preparation for the squash
Preheat oven to 400 degrees F.
Line a baking sheet with foil.
In a bowl toss cubed squash with a couple of tablespoons of a good evoo and sprinkle the cinnamon and sea salt over the squash.
Place cubed squash on the baking sheet and roast for approximately 30 minutes. Let cool slightly before adding it to the salad.
Preparation for the salad
 In a large bowl combine all ingredients and mix well.
Slowly drizzle the vinaigrette and incorporate into salad mix until desired dressing amount is met.
Posted on November 17 2023