Fresh Green Summer Salad & Guide to Great Salads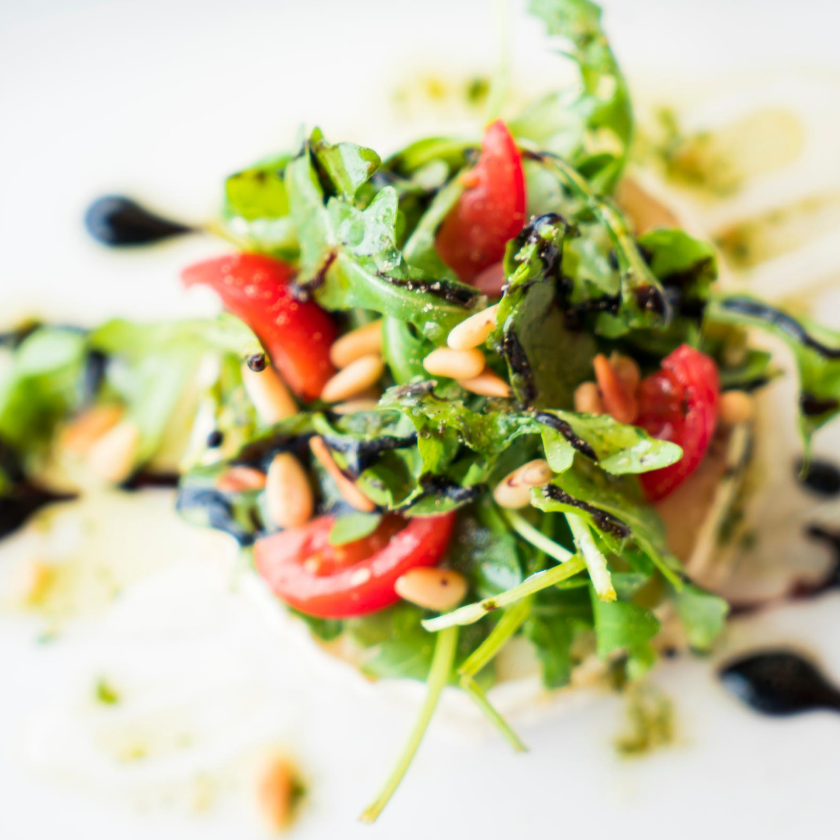 Salad Recipe + Dressing
SIMPLE GREEN SUMMER SALAD
Fresh, Seasonal, Easy
For this Salad You Will Need:
1.5 cup Arugula
1.5 cup Spinach
1 cup sprouted micro greens of choice
1/4 c. pine nuts, toasted
8-10 cherry tomatoes sliced into quarters 
1/4 teaspoon Gourmet Lemon Pepper Blend
1/4 teaspoon sea salt or Cyprus Flake Gourmet Sea Salt
2 tablespoons Meyer Lemon Olive Oil
1.5 tablespoons Raspberry Balsamic Vinegar
To Prepare:
In a large salad bowl add all ingredients and gently toss, if serving immediately, if not refrain from adding oil and vinegar until just before serving
Want to make a salad with whatever ingredients you have available?
We've put together a little guide on how to mix and match ingredients
Here we will switch it up a bit and focus on how to create a balanced salad given a multitude of ingredient options.
The key components to any balanced salad are:
Leafy Greens (try arugula, radicchio, butter leaf, spinach, the list goes on...)
Something Sweet (even more so if the greens you choose are bitter, such as sliced peaches, candied nuts, fresh raspberries, sliced apples)
Something Salty ( Gourmet Sea Salts, caper berries, pickled veggies, salty cheese, or salted nuts)
Something Bitter (if not the greens, such as grated ginger, grapefruit chunks, blanched or grilled broccoli, dill or mint)
Something Crunchy (Try nuts, sesame or poppy seeds, croutons, pomegranate seeds, crispy cucumbers, carrots or raw bell peppers)
Something Sour (Try lemon or lime zest or juice, tart cherries, or a drizzle of cultured yogurt and some cheeses)
Something Spicy ( Try a pinch of our Savory Pepper Blend, Lemon Pepper Blend, sliced jalapeños, or chili flake)
Some type of Fat ( Try any of our Extra Virgin or Flavored Olive & Nut Oils in generous doses, boiled eggs, smoked salmon, prosciutto and an array of cheese options)
Some type of Acid (Try any of our Aged Balsamic and Flavored Balsamic Vinegars, lemon juice, lime juice, pineapple, tomato, mango, strawberry, mandarine)
Another important factor to creating a successful salad is mouth feel, so paying attention to how the variety of ingredients are chopped. Be intentional when choosing which way to slice or chop your veggies. We also love to use a 1:1 ration of Oil to Vinegar, try different ratios to see what level of sweetness and acid you like most. 
TRYING OUR RECIPES?
Share your food photos with us on social media!
Use #thisishowigroove #theolivegroove #showushowyougroove
Recipes & Photos By Amanda Ashley