Mediterranean Chicken & Wild Rice Soup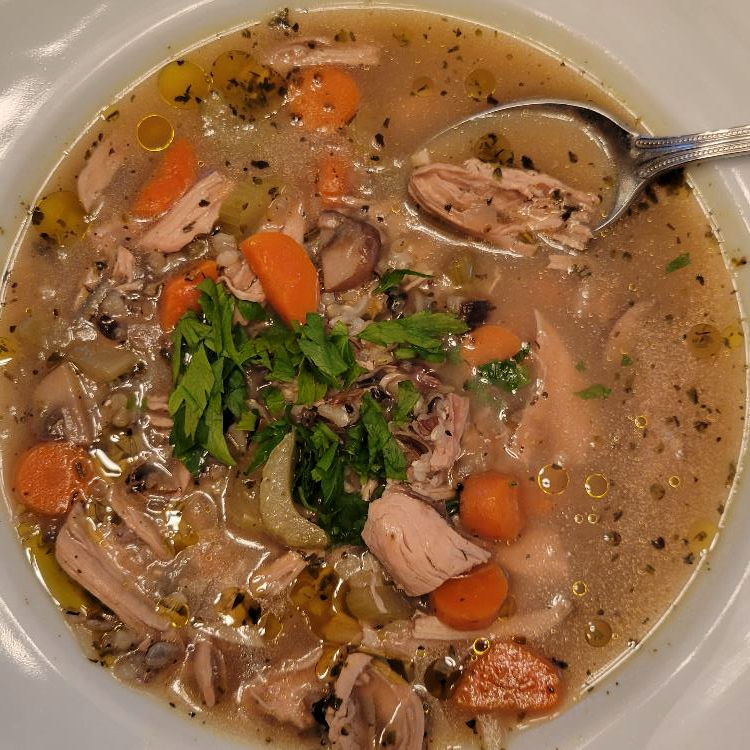 The arrival of Autumn brings soups front and center to my menu planning. This savory soup recipe is full of herby goodness and is nourishing and fulfilling. The smell throughout the house while cooking is dreamy.
Ingredients
2 boneless skinless chicken breasts, cut in half
3 medium carrots, chopped to preferred size
4 medium celery stalks, cut to preferred size
1 medium onion, finely diced
6 cloves of garlic, minced
8-10 cremini mushrooms, cut to preferred size
1 cup Wild Rice Blend, rinsed
2 Tbsp Mediterranean Dry Rub
3-4 Tbsp
Mushroom & Sage Olive Oil
1.5 Tbsp
Pear Apple Balsamic Vinegar
2 tsp salt
2 tsp
Savory Pepper Blend
Chopped fresh parsley for garnish
EVOO for drizzle
10 cups chicken stock, (homemade is the best, however my favorite stock brand is Kitchen Basics if I don't have any homemade)
Preparation
Prep all veggies. In a 5 qt pot, heat the Mushroom & Sage Olive Oil over medium high heat. Add all veggies and season with 1 tsp each of the salt and pepper, ½ Tbsp of the Mediterranean Dry Rub and sauté until onions are softened and the veggies are crisp-tender, about 5 minutes. Add the Pear Apple Balsamic Vinegar and briefly deglaze the pot stirring to coat all the veggies 
Add the broth, chicken, remainder of seasoning, salt, pepper, and rice to the pot.
Bring to a boil; reduce to a simmer, and cover. Cook until the chicken is opaque throughout, about 8-10 minutes depending on size.
Remove the chicken and let cool for a couple of minutes.
When cool enough, shred the chicken using 2 forks, or cut into bite-size pieces. Return to the pot.
Continue cooking the soup until the rice is tender.
Serve the soup with a sprinkle of fresh parsley and a drizzle of a medium to robust EVOO, OR a drizzle of the Mushroom & Sage Olive Oil for significant flavor enhancements.
Posted on October 01 2023