Lemon Rosemary Roasted Chicken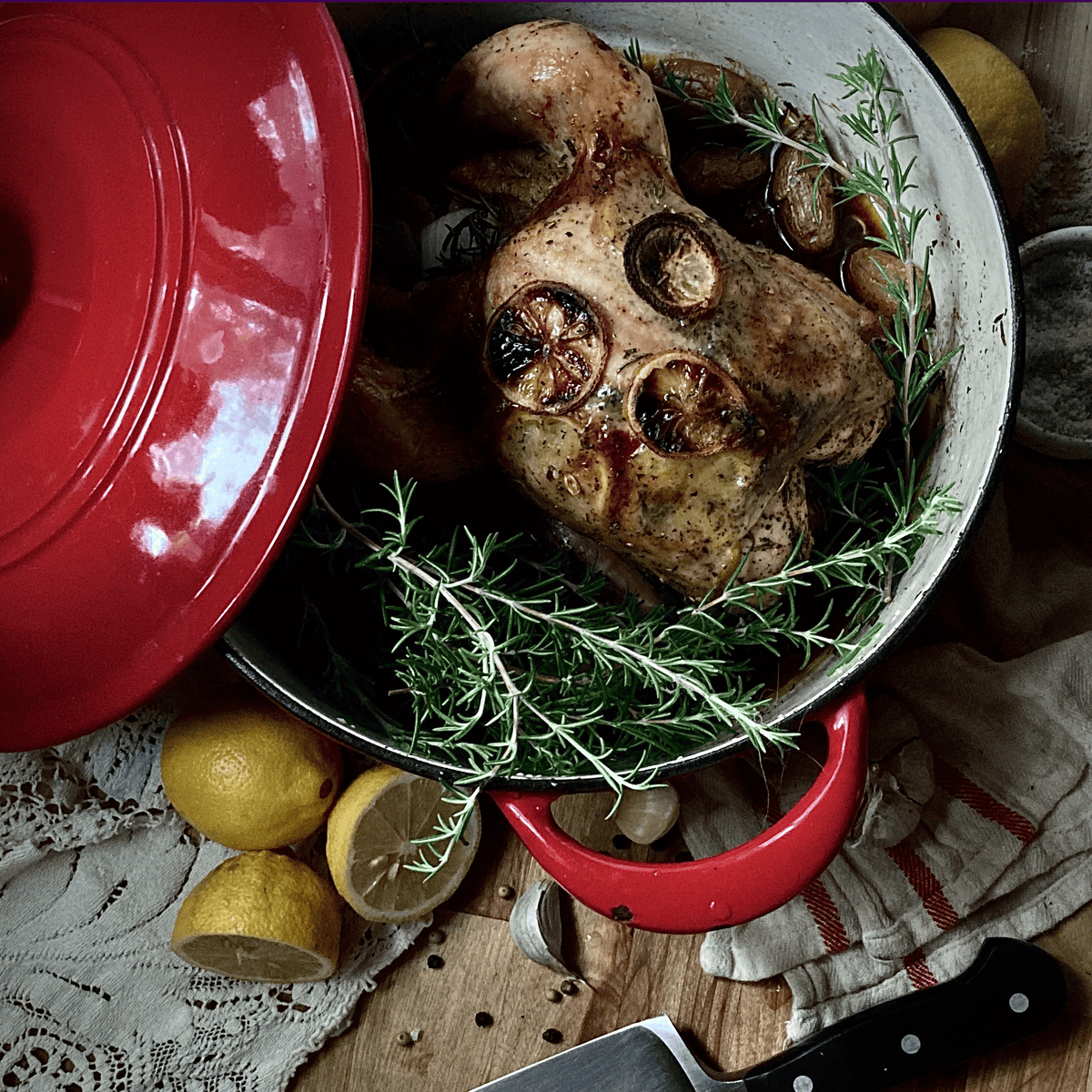 Main Dish
LEMON ROSEMARY ROASTED CHICKEN
Moist, Nourishing, Flavorful
This recipe features our latest curated pairing selection:
& Pear Apple Aged Balsamic Vinegar
+ Smoked Lapsang Souchong Tea Dry Rub
You Will Need:
-3 1/2 lb whole roasting chicken 
-1 onion quartered
-3 Sprigs Rosemary, washed, de-stemmed and chopped
-1 lemon sliced
-1 hand full of fresh oregano or basil chopped
-1/8 tsp fresh ground pepper
To Prepare:
-About 30 minutes before roasting, remove chicken from  the refrigerator. If the giblets and neck are in chicken cavity, remove them and reserve or discard
-Preheat oven to 425 F
-Place chicken (breast side up) in a cast iron skillet, roasting pan or dutch oven 
- 
In a bowl, mix oil (reserve 1 tbsp for later), salt, pepper, chopped herbs, and tea rub
-separated the skin from the chicken breast rub oil and seasoning between and on top of the skin of the breast and rest of the chicken, salt and pepper inside of cavity 
-place lemon slices between breast meat and skin, layer whatever slices remain place on top and inside of the chicken
-Stuff sliced onion inside of cavity and any additional herbs 
-Tuck the wing tips under the chicken and with twine tie the legs together 
-Roast for 15 minutes, then lower oven temperature to 350 F. Cook until meat thermometer inserted into the thickest part of the thigh registers 170-175 F
-Turn on oven broiler, and broil for 5 minutes or until skin turns golden brown
-Remove, give one more light drizzle of the pairing and cover with lid or foil and let stand 10 minutes
-Serve in baking pan or transfer to a serving platter
See how you can turn the leftover chicken from this dish into a salad
HERE
TRYING OUR RECIPES?
Share your food photos with us on social media!
Use #thisishowigroove #theolivegroove #showushowyougroove
Recipes & Photos By Amanda Ashley
Posted on September 03 2020