Baked Brie Cheese Topped with Poached Fruit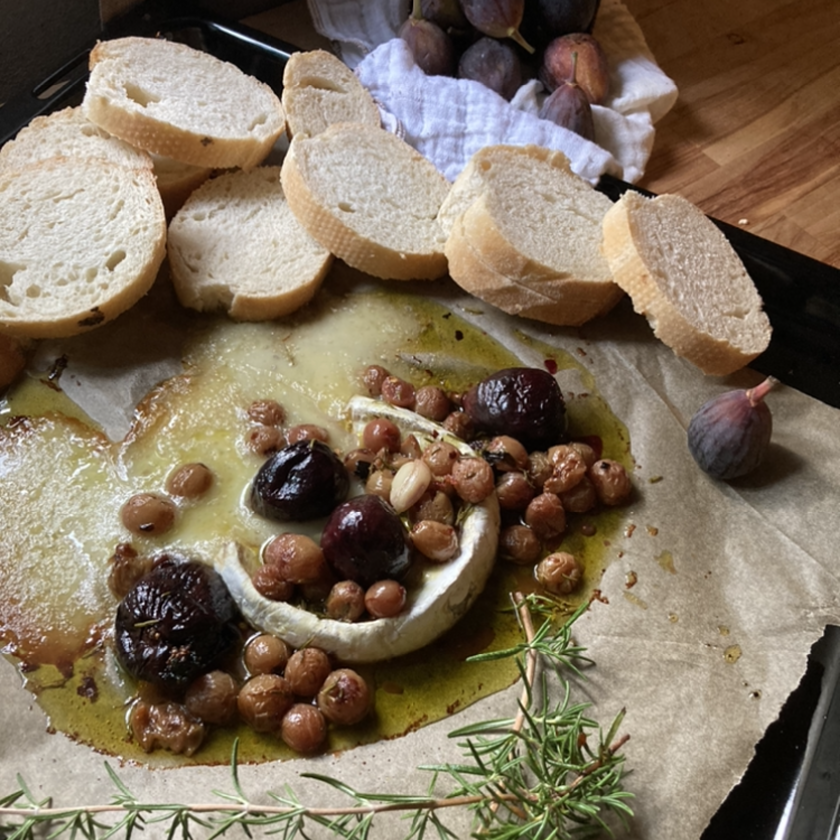 Appetizer
BAKED BRIE CHEESE TOPPED WITH POACHED FRUIT
Herbaceous, Melty, Sweet
This recipe features one of our beautiful Extra Virgin Olive Oils 
You Will Need:
-1 wheel Brie Cheese of Choice
-2 sprigs r
osemary 
for garnish
-1 sliced sourdough baguette
-1 1/2 c Herb Poached Figs & Grapes + Poaching Liquid (
see recipe
)
-2 garlic cloves peeled
To Prepare:
- Preheat oven 275 F
-On a baking sheet, place a sheet of parchment paper, then a wheel of brie cheese
-Once oven is preheated, place baking sheet on middle rack and bake for 8 minutes or until soft
-After 4 minutes, spoon poached fruit and poaching liquid over the wheel of cheese and return to the oven for remaining 4-5 minutes
-At this time place sourdough baguette on a baking sheet to warm for the last 4-5 minutes of your baking time
-Remove from oven, let stand 5 minutes before serving with a cheese knife & place bread around cheese wheel (we served ours right from the baking sheet)
Add to Charcuterie boards, or as a stand alone appetizer- Enjoy!
TRYING OUR RECIPES?
Share your food photos with us on social media!
Use #thisishowigroove #theolivegroove #showushowyougroove
Recipes & Photos By Amanda Ashley
Posted on September 03 2020