Easy Prosciutto Wrapped Asparagus & Basil Blood Orange Dressing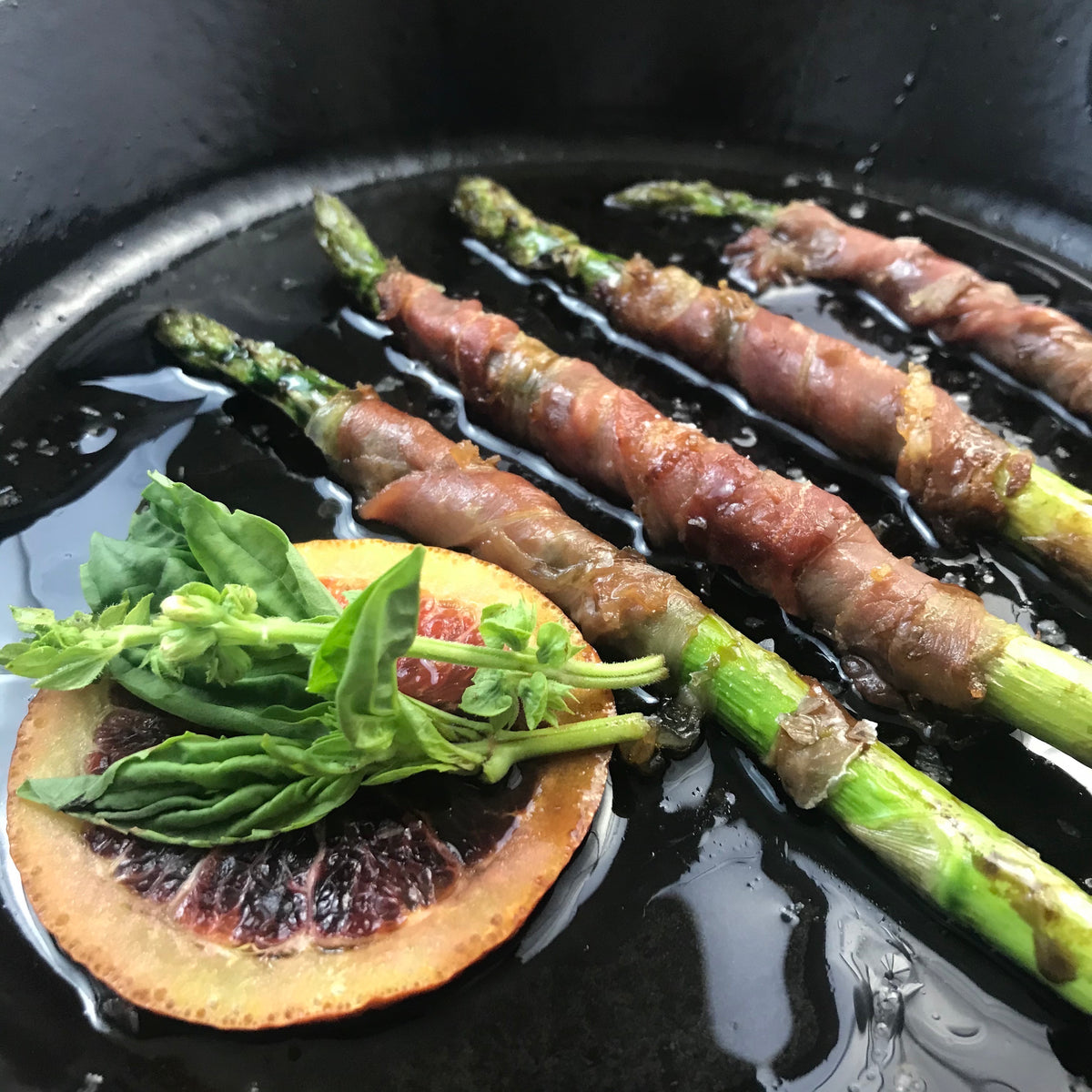 This bright and savory dish whips up quickly without sacrificing class. Crisp and fresh asparagus snuggled in salty prosciutto cooked to perfection in a cast iron on the grill! Perfect for eating al fresco!
Featuring our March curated collection of 
To preparations for appetizers or for two as a side dish
You'll need:
1/4lb asparagus (increase to a pound if preparing for a party)
equal parts sliced prosciutto- 1/2-1 piece for each asparagus spear
Basil Infuse Olive Oil
Blood Orange Balsamic
To prepare:
 pre heat a med/lg cast iron on grill over med heat while wrapping asparagus spears (about 1-2 minutes) 
If you are preparing a large batch you can mimic this process on a baking sheet in the oven
Wash asparagus and snap off ends where the natural break occurs, this prevents tough asparagus stock being included in the dish. See bottom of recipe for articles about handling asparagus. 
Pro tip- safe asparagus ends in freezer for broth or blended soup
Place asparagus in a dish and coat with 1-2 tbs of
Basil Infused Olive Oil  and a drizzle of Blood Orange Balsamic Vinegar
Wrap each piece in 1/2-1 piece of prosciutto based on preference and size of meat slices (note- wrapping less meat reveals more of the asparagus and is quite pretty)
Meanwhile, add 1-1.5 tbs of Basil Infused Olive Oil to your now warm cast iron skillet 
Once the oil is warm, about 1 minute place asparagus spears, with some room between them, in the skillet and close the lid of the grill for about 8-10 minutes
Pro tip- we place an extra spear in the skillet unwrapped so we could test when the asparagus was cooked to perfection. Asparagus is best when cooked al dente, meaning it still has a bit of snap to it. It is easy to overcook and is much less appetizing when this happens. 
Remove skillet from heat drizzle with Blood Orange Balsamic Vinegar
Serve & enjoy!
If plating on a platter wait until asparagus has been removed and plated on platter for final drizzle
If you don't want to snap the ends due to waste read this article for an alternate method:
https://www.oregonlive.com/cooking/2016/03/why_snapping_asparagus_stalks.html
Recipes & Photos by: Amanda Ashley