Creamy Wild Mushroom and Sage Pasta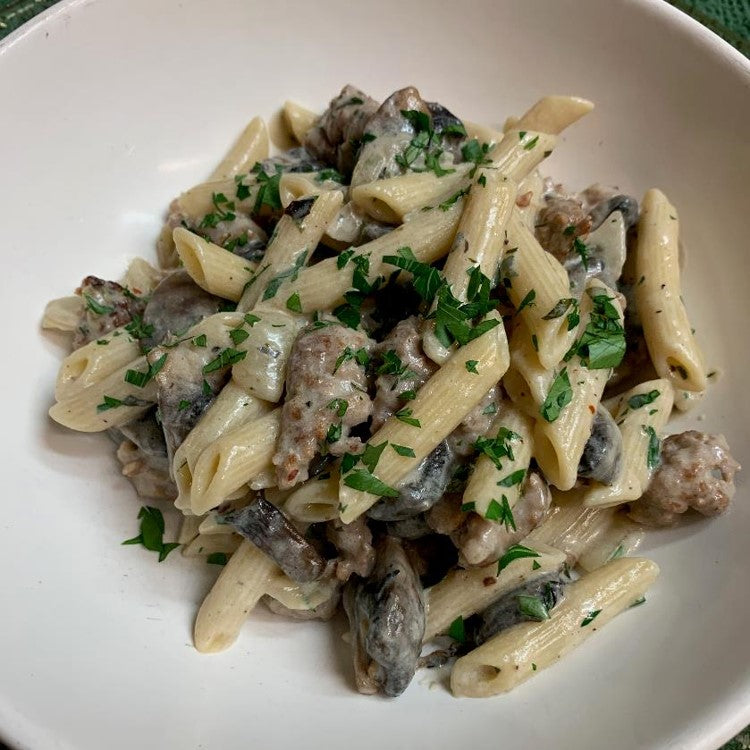 This is an indulgent and delicious pasta dish that incorporates Autumn flavors.  I like to add a few chili flakes for a little kick.  It is OK to substitute ½ & ½ for a lighter sauce.
Pear Apple Aged Balsamic Vinegar
Ingredients
¼ cup + 2 Tbsp. Wild Mushroom and Sage Olive Oil
1 small yellow onion, diced
6-8 mushrooms, quartered
2 cloves garlic, minced
1 tsp rosemary, chopped
1 Tbsp. sage, chopped
1 cup heavy cream
8-10 oz crumbled sausage
2 Tbsp. Pear Apple Balsamic Vinegar
2 cups penne pasta (or shape of your choice)
salt & pepper to taste
1 Tbsp. parsley, chopped
parmesan cheese, grated or shaved
Preparation
Heat Wild Mushroom and Sage Olive Oil in a medium saucepan and sweat onions with salt & pepper until soft and opaque; add mushrooms and once they start to take on a golden hue, add garlic and herbs; cook an additional 2 minutes.
Add cream to mushroom mixture; bring to a gentle boil, reduce heat to low and simmer about 10 minutes, stirring occasionally.
In a separate medium saucepan, cook crumbled sausage in 2 Tbsp Wild Mushroom and Sage Olive Oil. Once the sausage is fully cooked add Pear Apple Balsamic Vinegar to deglaze, then add sausage to the cream and mushrooms, stirring well.
Cook pasta according to package directions. When complete add hot pasta to the sauce, stirring well; adjust seasoning.
Garnish with chopped parsley and plenty of parmesan cheese

Serves 2 as large entrees or 4 as a side dish.
Posted on November 01 2021