Strawberry Trifles with Mascarpone Whipped Cream & Balsamic Chocolate Sauce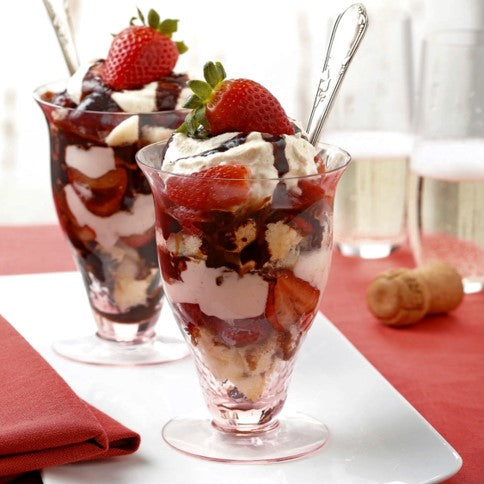 Strawberry Trifles with Mascarpone Whipped Cream and Balsamic Glaze
Featuring our February Pairing:
Pamper your loved one this Valentine's Day with this delicious and deceptively simple dessert that blends the classic Italian pairing of strawberries, chocolate, and sweet balsamic vinegar with the lighter than air ladyfingers.
Ingredients for 2 servings:
For the Strawberries, toss:
1 ½ cups sliced strawberries
1 Tbsp Strawberry Balsamic Vinegar
1 Tbsp. Sugar
1 Tbsp Vanilla Olive Oil
Black Pepper to taste (don't be afraid! This brings out the sweetness of the berries)
Toss together and let sit, chilling in the refrigerator while preparing the other elements.
For the glaze, combine: 
2/3 cup Strawberry Balsamic Vinegar
3 Tbsp Sugar
1 ½ oz. Bittersweet Chocolate bar, chopped
In a saucepan, over medium-high heat, combine the balsamic vinegar and the sugar and boil until the mixture reduces to about 1/3 of a cup (or desired glaze consistency). Takes about 8-10 minutes.  Remove pan from heat and whisk in the chocolate until melted, then let cool slightly.
For the whipped cream:
 ¼ cup mascarpone
½ cup heavy whipping cream
1 Tbsp sugar
½ tsp vanilla bean paste or extract 
Beat mascarpone on medium speed with a mixer until fluffy, about 1 minute.  Add cream, sugar and vanilla and whip until thick and light, about 2-3 minutes.
For the trifles layer:
 1 ½ cups diced ladyfingers
To assemble the trifles, layer a quarter each of the ladyfingers, strawberries, whipped cream, and balsamic glaze into 2 individual serving dishes.  Repeat layering.  Garnish with shaved chocolate and a mint leave.
Chill before serving. And enjoy!
Posted on February 03 2021