Plum and Blood Orange Grilled Chicken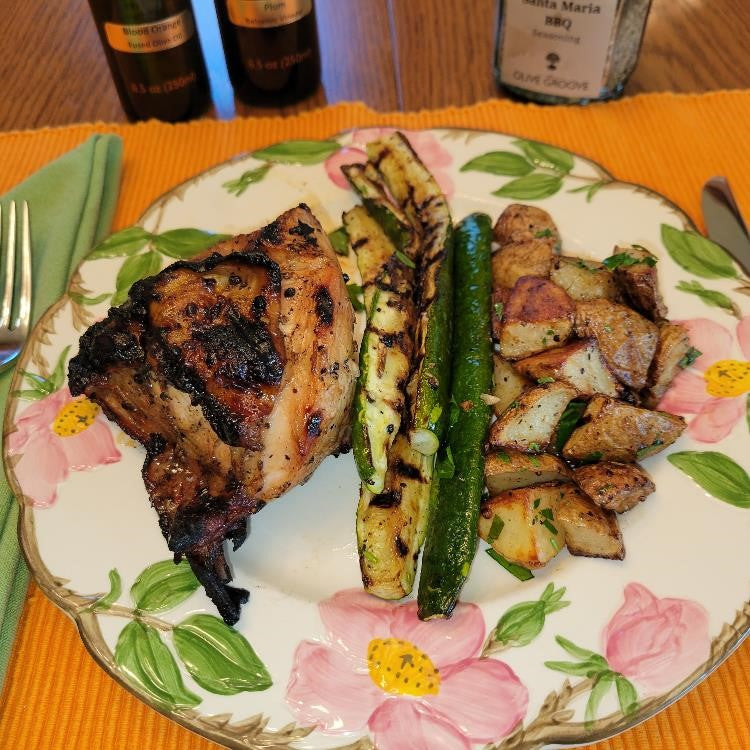 Putting citrus with other fruits tends to bring both flavors forward. This combination doesn't disappoint. The chicken takes on the flavors to bring it to delightfully fresh, summery taste.
This Recipe includes the following products from The Olive Groove. Click on each to see its full description.
Blood Orange Olive Oil
Plum Balsamic Vinegar
Santa Maria BBQ Seasoning
Ingredients
4 chicken breasts (we used skin on, bone in)
Santa Maria BBQ Seasoning
1/3 cup Plum Balsamic Vinegar
1/3 cup Blood Orange Olive Oil
3 cloves garlic, minced
Preparation
Season the chicken liberally with the Santa Maria BBQ Seasoning, not forgetting under the skin.
Mix the Blood Orange Olive Oil and Plum Balsamic Vinegar, with the minced garlic in a small bowl, and pour over the chicken, turning to coat evenly.
Marinate overnight in the fridge, or for 2 hours at room temp.
Grill the chicken until fully done, using any remaining marinade to baste the chicken as it's cooking. Dispose of any remaining marinade.