Pear Apple and Wild Mushroom and Sage Zucchini and Caramelized Onions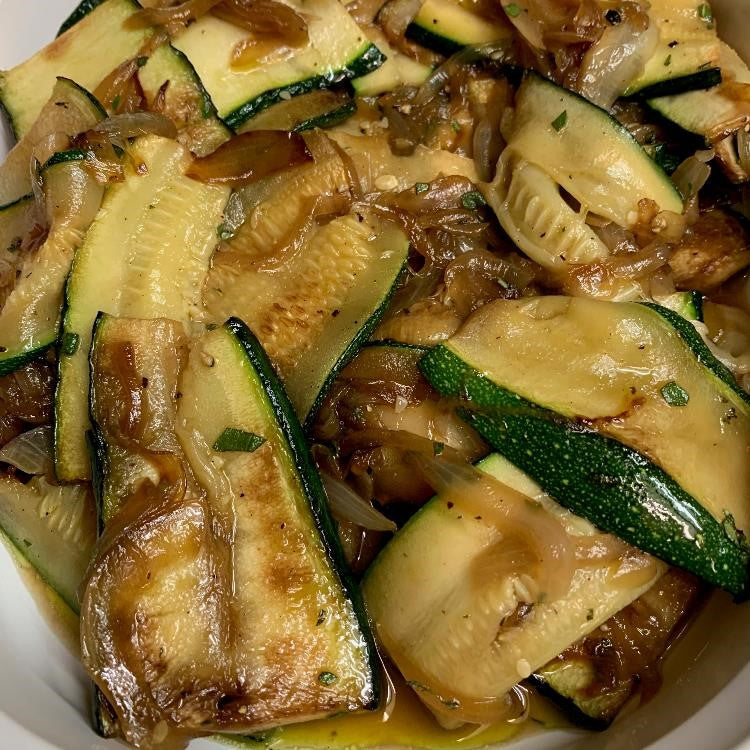 This is an easy make-ahead vegetable side dish for your Fall table.  Prepare up to a day ahead and warm up in a 300 degree oven before serving.  Also delicious with a breadcrumb parmesan topping!  Any leftovers can make a fun crostini topping for quick appetizers.
Wild Mushroom and Sage Olive Oil
Pear Apple Aged Balsamic Vinegar
Ingredients
3 medium zucchini
2 medium yellow onions, thinly sliced
¾ cup Wild Mushroom and Sage Olive Oil (total)
salt & pepper to taste
1 Tbsp thyme leaves, chopped
1 Tbsp sage leaves, chopped
2-3 Tbsp Pear Apple Balsamic Vinegar
Preparation
Slice ends off zucchini, cut in half and cut each half into several medium slices, about 6 per piece.
In a large skillet heat 3 Tbsp Wild Mushroom and Sage Olive Oil and fry them until lightly golden and soft. Add more oil, a tablespoon at a time as needed while frying.
Set the cooked zucchini aside, add the remaining oil and cook the sliced onions over medium heat, stirring occasionally to caramelize. You may add a teaspoon or two of water to loosen any sticking bits.
Add 2 Tbsp Pear Apple Balsamic Vinegar to onions as they finish cooking and are golden brown all over.
Combine zucchini and warm onions in a shallow oven-proof serving dish and sprinkle with herbs, salt and pepper, and remaining vinegar giving a final stir to combine the flavors; adjust seasoning as you like.

Optional Parmesan Breadcrumb Topping
Combine ½ cup plain breadcrumbs, ½ grated parmesan cheese, and 2 Tbsp Wild Mushroom and Sage Olive Oil. Sprinkle over warmed zucchini and onions and toast quickly under the broiler.
Posted on November 01 2021